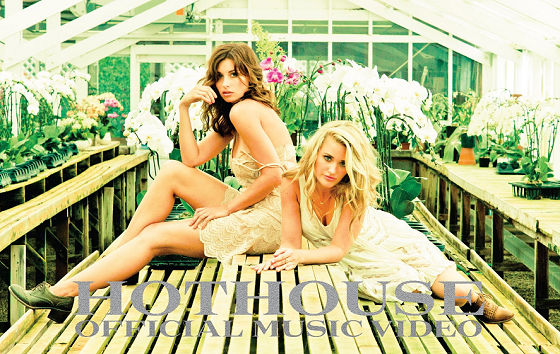 After over half a year of on-location pictures and teasers, 78violet (formerly known as Aly & AJ) have finally returned with their new single Hothouse, plus a grand and luscious music video to accompany it.
On the first listen, the song slowly draws you in with its psychedelic rock, sway inducing folksy quality. The girls adopt this breathy Marilyn Monroe-esque singing tone, with a Diana Vickers' yelp-like essence, which makes the song seem almost ethereal. Then on subsequent listens, you get a sense of a very Lana Del Rey sadcore at the base of the song, while contrasting with hints of their former Disney origins thrown in for good measure.
Hothouse also displays the sisters' very specific hand at crafting songs that are unapologetically pop, but the songs are almost made especially so that they'll never get mainstream radio airplay. Yet everyone knows how wonderful the song is; kind of like the best kept secret that everybody knows.
The lyricism, the harmonizing and down to the awkward-but-yet-not phrasing is undeniably 78violet/Aly & AJ. They have this quality that, no matter what genre they are currently perusing, kind of carries over and into their songs, a quality that many mainstream pop records and artists lack.
The music video follows the trend of a long sweeping and depressing monologue before the song actually starts, like Rihanna's We Found Love and Taylor Swift's I Knew You Were Trouble. I should be turned off at the derivative generic-ness of it all, but the video is so luscious and gorgeous that it's forgivable, almost offensive. The girls are practically making love to the camera with their smoldering eyes.
Hothouse does its job, and does it well, reintroducing us to a beloved group that has now grown up and showing a mature new sound that satisfies the needs of the original fans. It's good to have you back, girls.